Disease,  plagues,  cancers are all part of the curse belonging to death.  They are here because another thought he could be greater than God, and what he really is revealing is that attacking the light and life given to the creation causes pain and suffering. Biting the hand that feeds you is never a wise move.
Many of us want to live in a world with clear, concise values that cause good and not harm, where there is peace and happiness, and we are told there is such a world. Without faith, the Bible teaches it is impossible to please God, and it is always the faith of the person who is ill that brings about the healing.
Matthew 9:22 KJV
But Jesus turned him about, and when he saw her, he said, Daughter, be of good comfort; thy faith hath made thee whole. And the woman was made whole from that hour.
Matthew 15:28 KJV
Then Jesus answered and said unto her, O woman, great is thy faith: be it unto thee even as thou wilt. And her daughter was made whole from that very hour.
In the above situation, it was a mother for her daughter doting over her child as a mother should, and her faith in Jesus made her daughter well. Parents, your faith impacts your children, whether they be sick or not.
Mark 10:52 KJV
And Jesus said unto him, Go thy way; thy faith hath made thee whole. And immediately he received his sight, and followed Jesus in the way.
Luke 17:19 KJV
And he said unto him, Arise, go thy way: thy faith hath made thee whole.
This next one is not about healing. I know many ministers who follow Jesus but have not been converted as they choose to ignore the truth. The following statement was made to Peter before denying Jesus three times as even knowing HIM.
Luke 22:32 KJV
But I have prayed for thee, that thy faith fail not: and when thou art converted, strengthen thy brethren.
No one's faith should be placed in one man's hands; we are to study to show ourselves approved. God is watching, and if you are looking towards men rather than the HOLY SPIRIT who confirms they are HIS men, you can be misdirected.
James 5:13-16 KJV
(13)  Is any among you afflicted? Let him pray. Is any merry? Let him sing psalms.
(14)  Is any sick among you? let him call for the elders of the church; and let them pray over him, anointing him with oil in the name of the Lord:
(15)  And the prayer of faith shall save the sick, and the Lord shall raise him up; and if he has committed sins, they shall be forgiven him.
(16)  Confess your faults one to another, and pray one for another, that ye may be healed—the effectual fervent prayer of a righteous man availeth much.
Since I have been given my ability to read the writing on the wall, and in this case, the many crop circles because it is the end of the age of man without God physically present and ruling here.  Signs placed by balls of light in England all because of my crying out to God involved saving many souls. I asked HIM how it is fair that he send my stepmother to hell or any other because an institution claiming to know HIM kept HIS word away from them? How will they know you without your word, I asked?
I am compelled to push you towards the word and not men,  though I see many men I can trust and others I know I cannot because of who they stand for and protect. Almost like Elijah, my face is hard towards them; how can they not see Jezebel and her priests destroying our world using the LORD's name in vain to accomplish its destruction?
What fool would stand up as a deacon in a Pentacostal Church and say the words "I don't have a problem with Catholics?" the minute I heard that, I heard God say,   "He will when he is left with them in the tribulation."
Why not just say I prefer Mary over Jesus and HIS Father? It is one of the very reasons you have cancers and diseases. She is placed in their hospitals worldwide; we might as well try using gasoline to put out a fire.
That's just one of many doctrines of demons in the church.
Yes,  education and doctors are necessary here, but why fight the problem with spiritual ignorance?

Understand what is around us and why our frames are just dead cells on the outside.   When you kiss someone, do you have any idea how many bacteria one transfers to the other?  Marriage is by reason meant to be a one to one relationship,  and not test drive many and then one. The Bible speaks against sexual immorality for a reason, and harlots and whores are walking death.
Before creating man, God placed up the stars to tell a story to help us worship the one who made the stars and be guided by HIM and not them.  Judah is the Lion (Leo) while on the cross, his feet are upon the symbol for Cancer. When we look closely at Cancer, we can find things pertaining to promiscuous sex; it's a crab and the number 69 on its side as many swap their biologicals.
God's rules are there to protect us because HE is the only one who truly loves us.
I have what I have because I found what I found because I am who I am, and HE is who HE is, and HE loves us.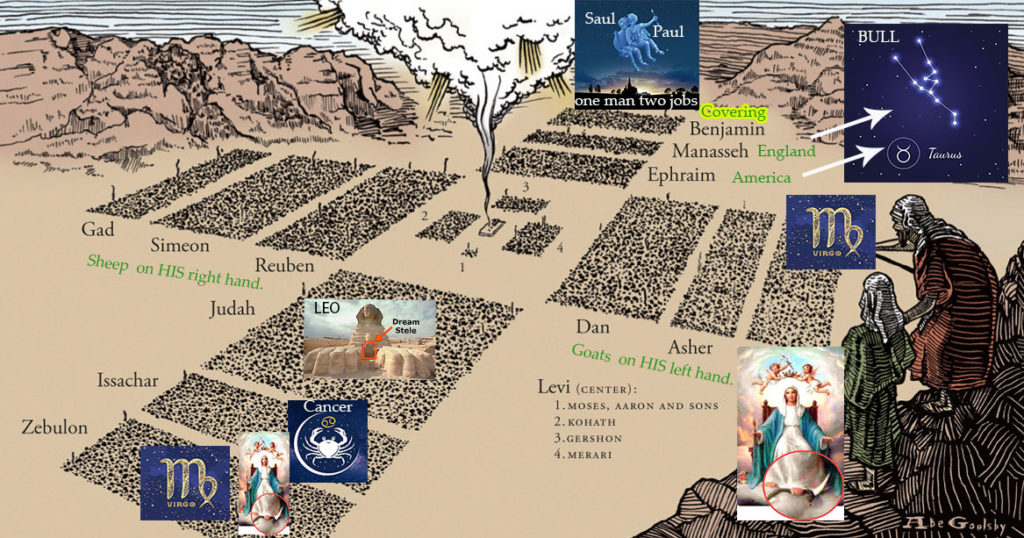 Genesis 3:15 (555)  And I will put enmity between thee and the woman, and between thy seed and her seed; it shall bruise thy head, and thou shalt bruise his heel.
Below the rattle on his tail goes Nazi, Nazi, Nazi. We see the head of the serpent appear cut off. What happened to Papal infallibility? He never had it, but they made you believe he did.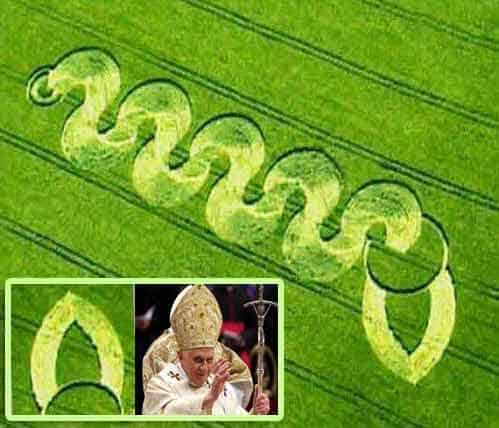 The curse for breaking the law is death. LEO is separated from the destruction of the curse of the law by VIRGO, which is between HIM and LIBRA Levi. Some place the sign Virgo with Naphtali while others I have seen beneath Cancer and with Zebulon, which for me makes more sense. Either way, it is clear where those who worship her will stand on judgment day. You may be able to corrupt the word or the placement with the tribes; however, in the heavens, she is in the way she stands between the Lion and the Law, and those who die under the law are separated from heaven forever.
So be aware of those who stand with her and defend her are not getting in and will stand on his left. Hopefully, the tribulation is to help them see they were not getting into heaven and choose martyrdom. With all that mask-wearing of the saints and the lack of gathering themselves together, they may take the mark out of spite all those left with her were her cohorts. You may be sitting next to a future beheaded saint in church professing Christ but do not know HIM.
Jesus came to lift HIS FATHER, and one good turn deserves another. Is Jesus your example? Who would FATHER like to lift today? Hint, it has to do with JUDAH.
Wherever Virgo is placed, the symbol reveals an "M" for  Mary with a Christian fish attached.
Can we make this any harder?
I added the western symbols to clarify who Benjamin is, and the west is clearly the mind of Christ. With England the older and America the younger, my last name is pronounced BULL YER; it's probably just a coincidence like everything else???
Uncle Benjamin can never stop being the brother of Joseph. Two sons Jacob worked harder to have from the woman he loved more.
I have heard many wanting me to be like Benny Hinn or Wigglesworth, but no excitement that Jesus is coming or HIS word is opened to the world, and no one seems to be volunteering to die in a service that I may attend.
Can you possibly conceive the idea that everyone needs to hear the message and another Benny Hinn or Wigglesworth will not make that happen?
Those who know me have not called me an elder to pray over others, nor do they wish to acknowledge me.  I find most of them hanging with Jezebel and her priests or defending her, and now they know who they are. They built their own gallows, and some of you helped build them with Jezebel to be used on herself. At the moment, they are targeting true Christians.
Together we can turn things around. Just look at the smaller numbers in the leadership category of Levi.  It just takes a few who truly care about the truth, and the lost to lead many.
Daniel 8:12
https://youtu.be/X35PXDa13w8
Brother Abel (Benjamin)